HydraCrete - Hydrophobic Coating for Concrete , Stones and Marble
HydraCrete WR is a water-repellent coating that protects your concrete, brick, mortar & masonry from the harmful effects of water intrusion and provides a robust, high-performance, optically invisible, penetrating seal. It is a kind of defensive shield against environmental factors, providing dirt and water repellent (lotus effect). The surface remains clean for longer and the washing is much easier.

The concrete surface is not only protected from these damaging elements when coated with Hydracrete Concrete Coating but is also esthetically enhanced with a peel and flake-resistant gloss or satin finish.To protect and maintain public concrete surfaces, home patios, garage floors, and more use Hydracrete Concrete Coating. Using patented nanotechnology for a wide range of substrates, we at our nanocoatings have developed a long-lasting, durable, environmentally friendly line of nanocoatings.HYDRACRETE can be used for marble , granite , stones , concrete , bricks etc.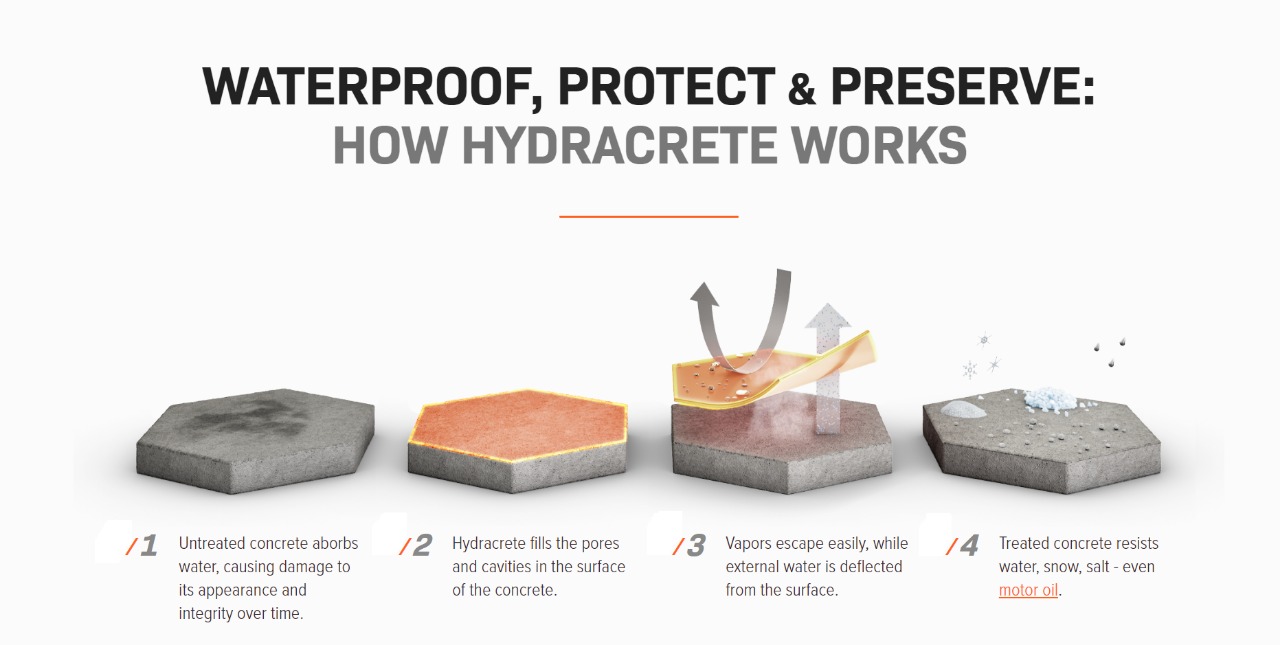 Need for HydraCrete ?
» The absorption of harmful substances, which could result in the extensive structural damage described above, is usually the result of contact between the building material and the water. This is an example of capillary water absorption, which also occurs when water splashes on salt de-icing. Forming a hydrophobic zone greatly reduces the amount of water and harmful substances which are absorbed.
» Additionally, an unprotected concrete surface appears to absorb tons of water through its micro-capillaries as water flows into the soil, resulting in the creation of micro-organisms such as algae fungus, etc. that damage the dwelling 's appearance and esthetics. After water-repellent treatment, the concrete pores remain open, so water vapor and gas diffusion are not measurably impacted.